The French Touch Of Web Series
Let us present to you… Frenchnerd, one of the best actual comedy producing group in France. It is the blog of director and screenwriter François Descraques. It was created in 2008, regularly bringing together Slimane-Baptiste Berhoun, Raphaël Descraques, Florent Dorin, Anaïs Vachez, Mathieu Poggi and many more. Its aim was to produce experimental video concepts (sketches, series, shows etc) despite their small budget.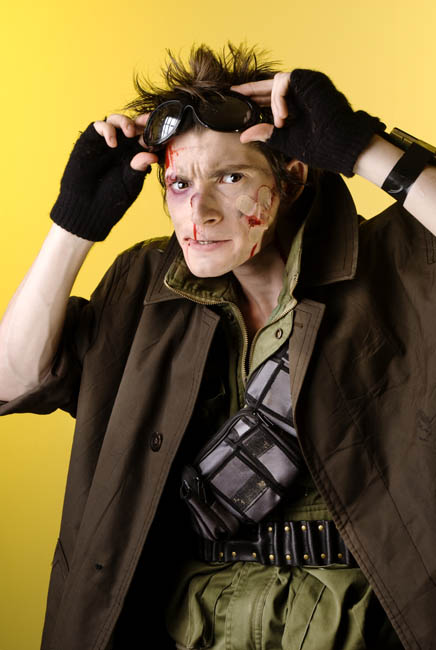 They managed to hit a million views on their videos, for instance on the web-series "Le Visiteur du Futur", produced by Ankama and France Television on several media (TV show, comics, novels and other). For anyone interested in post-apocalyptic scenarios, clumsy characters, funny situations and crazy futuristic inventions, you might want to have a look at the Visiteur Du Futur.
It is composed of 4 seasons of roughly 13 episodes of 10 minutes.
You'll see, it's funny the way the series evolved : starting with a very low budget, the episodes first lasted 4-5 minutes, then 10-15 minutes in the second season.
If you don't watch this web series, here's what's gonna happen !
"You'll miss by a few inches, the can will fall on the ground…"
"… Which will cause an explosion that'll blow up Paris !"
This is what you've got to be prepared to hear before watching their other series and videos.
Frenchnerd collaborated with the TelFrance group to create the series "LES OPERATEURS", with Orange for the series "LE GUICHET" and with Golden Moustache for "Le Golden Show" and a number of sketches. Frenchnerd also organised musical events with the collective's musicians and created a large community through the Forum Fan Frenchnerd.
Currently playing in your theater…
"La Théorie des Balls" !
6 episodes on the run for the moment, this series, produced by Frenchball (some kind of nickname for Frenchnerd) promises an interesting (and very serious) analysis of today's society through the life of a company that sells… Cup and ball games.
No spoil, go and see by yourselves on the Frenchnerd website or directly on Frenchball's Youtube channel.
CARPENTIER H, DEWIT B.